Chasing my dream to live in Australia
I can still remember when I first thought about moving to Australia. I was 14, living in Brazil, and I read a magazine from a study abroad agency talking about the attractive Australian lifestyle.
It only took me two minutes to decide what I wanted for my life. I read as many stories as I could from people who had moved there. I was fascinated by their quality of life and the country in general.
I tried everything from that point on to find my way to live and work there.
I grew up in one of the poorest states of Brazil but was very lucky to have a stable life with a fantastic family and parents who worked hard to provide for my sisters and me.
I could never understand the level of corruption, the ridiculous wealth inequality and the always rising number of violent deaths and robberies around us.
I was young and dreaming of one day, working and surfing in Australia.
After a year reading everything I could about immigration, I had a plan. But don't get me wrong, I knew it would take years and years, I was just a kid, but a pretty determined one.
Fast-forward to when I was 21, and I was catching my first waves in Australian waters…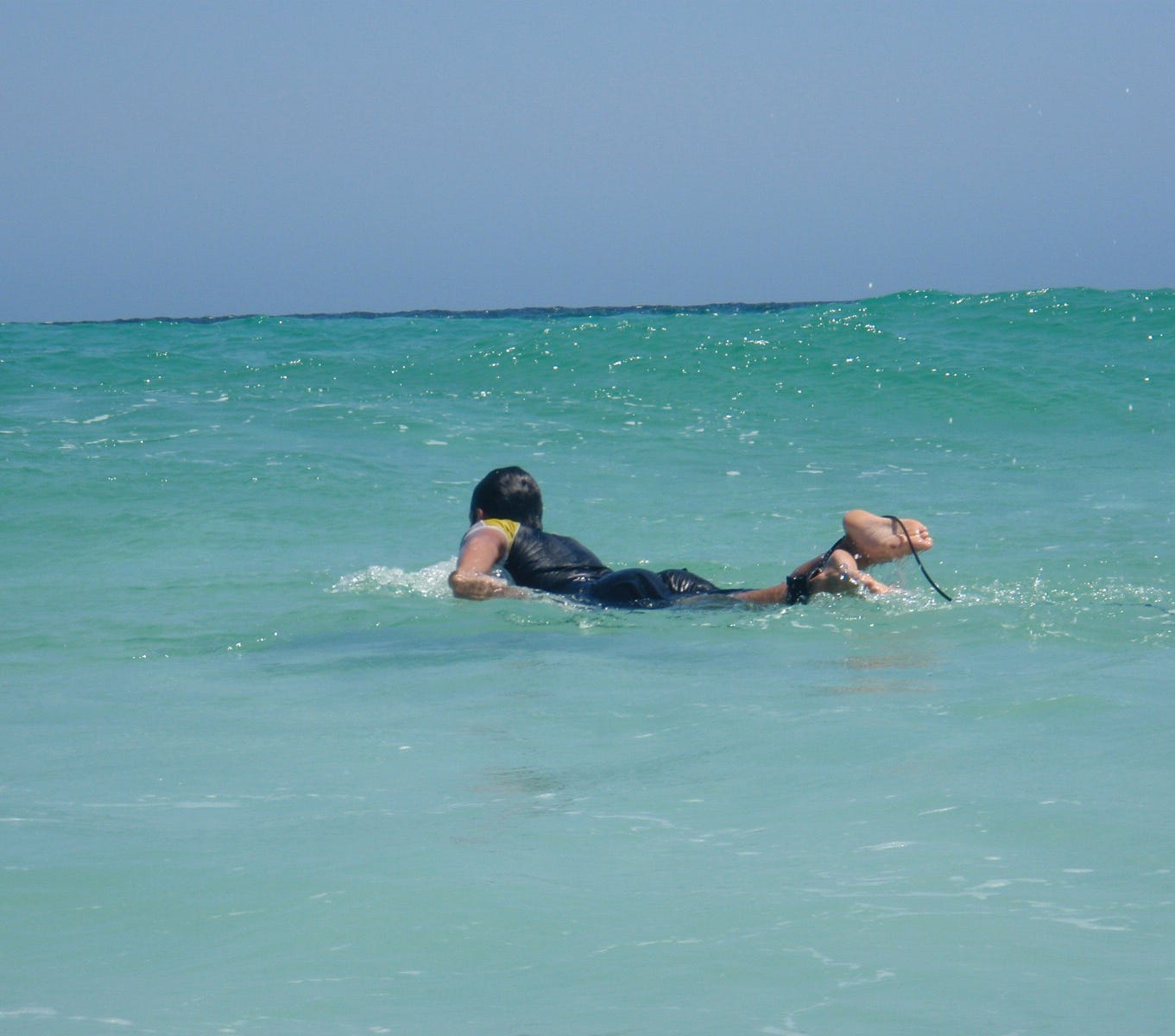 That's me in Margaret River - Western Australia (2008).
Well, as I said, I had a long-term plan but ended up getting lucky on the process.
You see, the plan was:
Be serious about learning English;

Get a Bachelor's Degree in IT;

Get 3–5 years of work experience in Brazil;

Take an IELTS course to get the score required at the time;

Apply for the points-based immigration system;

Move to Australia.
When I was just getting started with step 3, something crazy happened. It was a regular Tuesday morning in the office, and I got a call from a very strange number "00000000…".
The call went like this:
Hello, is this Beto?
me: sim… Sorry, Yes!
(20 seconds of heavy Australian accent)
me: Would you mind saying that again a bit slower?
Sure, mate! We got your email. It was pretty bold and we would love to run a test project with you. If things go well, we are happy to sponsor your visa and pay all your relocation costs to come to Perth.
I was a bit in shock. After hanging-up I wasn't sure if that was all true or just a scam.
The thing is, during my university years, I got the habit of contacting companies in Australia, way before I was ready. I even tried to apply for several positions.
Most companies never replied. When they did, it was most likely to be negative. But still, these few replies were super helpful in getting me ready to apply for the right companies.
I knew I could receive a thousand "NOs". I only needed one "YES".
So that was it, one of my hundreds of emails worked and I will share more details about my strategy in another post.
I accepted the test project and worked on it nights and weekends. They paid me for those hours and welcomed me to the company and Australia, so my dream came real a few years early.
---
Announcement:
We have launched our Private Facebook Group, and it's currently open for the first 500 members. The idea is to have it as a private space where we can all discuss options for migrating around the world and help each other out. See you there.